To not miss anything on African news, subscribe to the newsletter of World Africa from this link. Every Saturday at 6 a.m., find a week of current events and debates treated by the editorial staff of World Africa.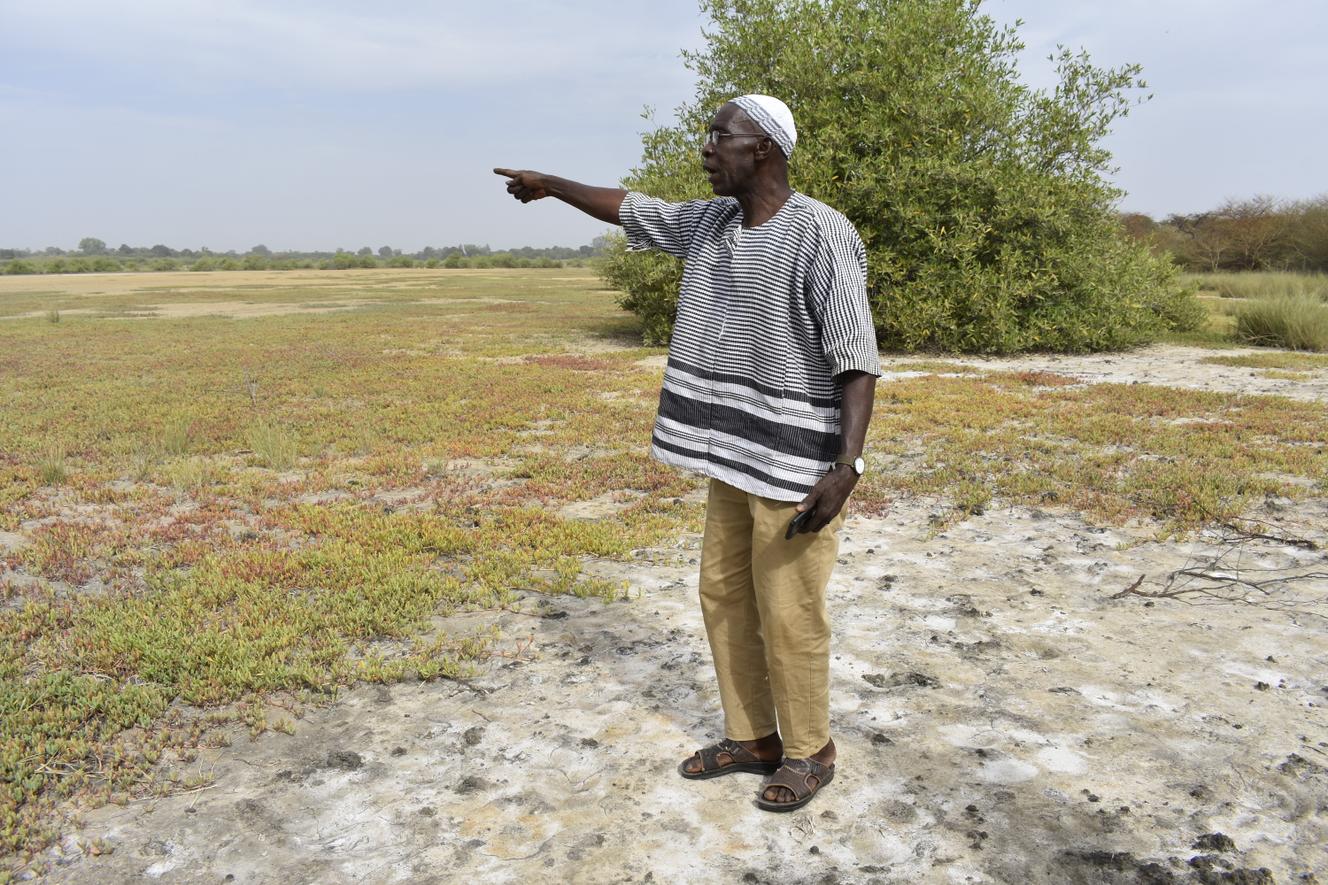 On the red and dry earth, here and there streaked with white, a few rare blades of grass are dying. Nothing in this landscape suggests that just seven years ago, rice with green stems sprouted its feet in the cool water, here, on the outskirts of the village of Panchang, in central Gambia, a few dozen meters from a tributary of the river that crosses this small country of two million inhabitants.
"I sold part of my rice to pay for my children's schooling and I kept the rest to feed the whole family", remembers Awa Ceesay, 60 years old and mother of eight children. But the rise in sea level linked to climate change has made these fields uncultivable: salt water rises in the Gambia River and infiltrates up to 200 kilometers inland. The drop in rainfall contributes to accentuate the phenomenon because the fresh water flow, much lower, struggles to push salt water back to the ocean.
Read also
Ostriches and organic cassava: in Gambia, a farm-school that goes off the beaten track
Soil salinity, which affects at least three of the six regions of this landlocked country inside Senegal, worsens over time and worries Saikou Sanyang, director of the ministry's agriculture department.
"Thousands of hectares of rice fields, usually irrigated with river water, had to be abandoned, he notes, without being able to give a more precise figure. This is slowing us down from pursuing our production target of 217,000 tonnes of rice per year, when we are only at 30,000 tonnes. "
Restore the mangrove
Seeing the land cultivated by his mother deteriorating before his eyes, Muhammed Ceesay decided to get involved in the fight against climate change. "Our mother fought to pay for our studies with rice. Without this, we would not have been able to improve our situation ", testifies the young man of 28 years, now project manager within the Gambian NGO Activista.
He returns regularly to his native village, where he initiated the planting of one hundred salt-resistant trees such as the tamarind tree, in August 2021, during the rainy season. He is also campaigning to plant mangroves, this plant ecosystem that grows in brackish water and has the power to regulate salinity.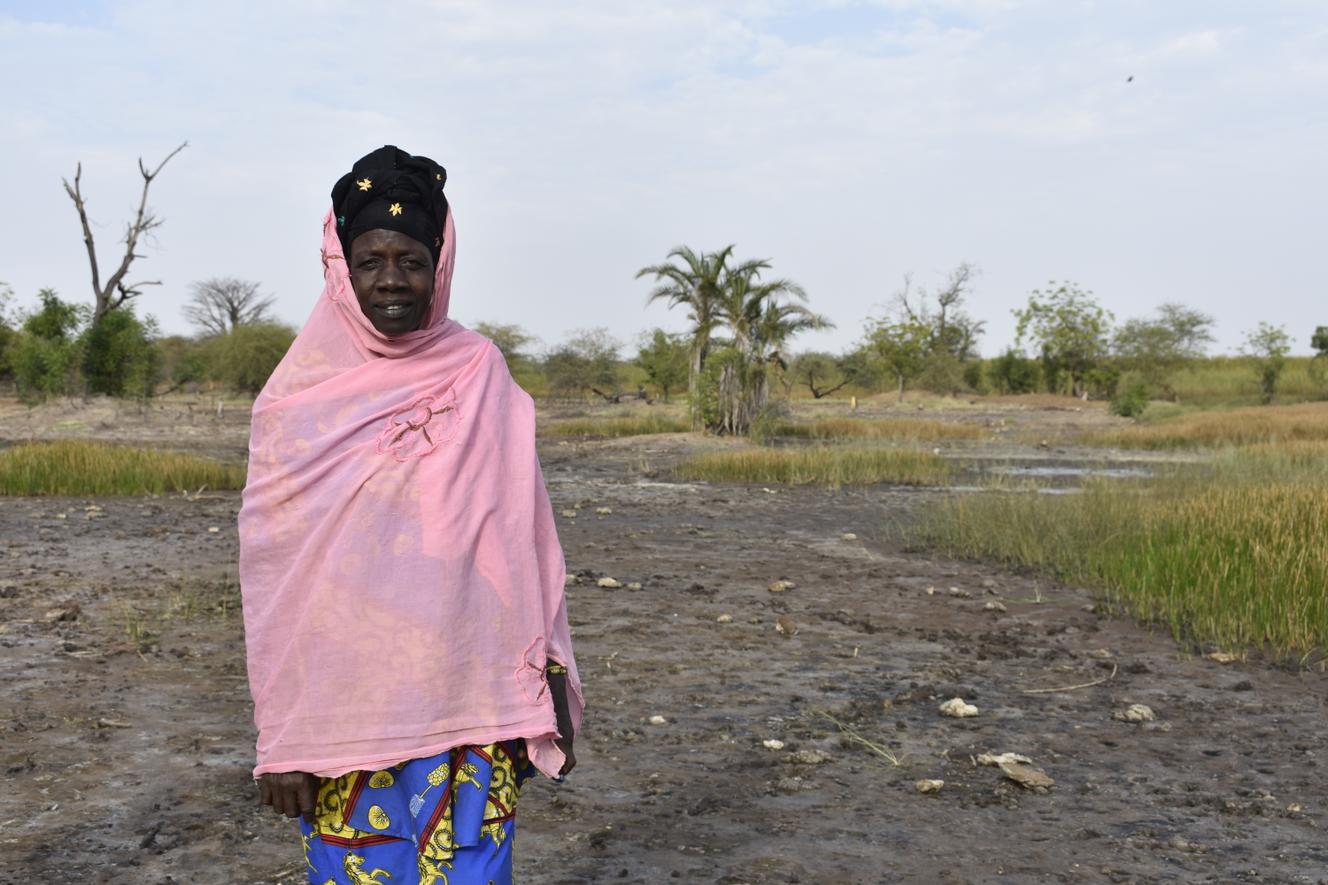 In a neighboring region, the town of Kerewan is facing the same tragedy, notes the young environmental activist, guided by Almamy Fatty, an elder of the community. The farmer shows what remains of the old plots on which he cultivated rice, abandoned for more than ten years. From now on, there remains only a large expanse of land whitened by salt and strewn with thorny bushes. This locality of some 4,500 inhabitants would have lost between seven to ten hectares of cultivable land.
"Before, these fields fed the whole community, everyone cultivated at least what they needed to eat. Now our rice is only sufficient for a few months of the year. The rest of the time, we have to import it from China but we don't have the means ", is desperate Almamy Fatty, who now depends on the income of his son, Kemo, who has also become an environmental activist.
A food security issue
"We only humans are suffering, but the whole aquatic ecosystem is destroyed. We have seen plants disappear and the fish population of the river has drastically decreased ", notes Kemo Fatty, who returned disappointed with COP26, the international climate conference held in November 2021 in Glasgow (Scotland) and in which he participated. "Global warming is a global problem, pollution comes from the richest countries and we are the ones paying the costs", the young man is indignant.
Fortunately in Kerewan, a few hectares have been preserved thanks to a dike built as part of a program of the Ministry of Agriculture. This dam prevents salt water from entering the fields but is also useful for retaining fresh water from the rain. The village is asking for additional funds for its maintenance and hopes that other structures will be erected.
Read also
In Gambia, Adama Barrow wins the presidential election
"The rains were not good this year and the dike was damaged. The rice was therefore not able to ripen properly ", says farmer Aja Jawara, hitting the ears with a stick to release the white grains.
Soil salinization is a food security issue. To answer this, some advocate a diversification of crops. In the affected regions, farmers have thus embarked on the production of market garden vegetables for their own consumption but also for sale. Cultures that can be done on land further from the river and that are content with watering with water from the well.
Land disputes
Another solution is to grow new varieties of rice that are resistant and tolerant to salt. "But the problem is to have access to seeds", says Saikou Sanyang, from the agriculture department.
Confronted with soils that had become uncultivable, some farmers set out in search of new land. These migrations frequently lead to land conflicts between the different communities who compete for access to resources. A phenomenon that particularly worries Muhammed Ceesay. The activist therefore set up with Activista a program in three regions to renew the dialogue between the populations.
"This project responds rather to the consequences of climate change, the effects of which are already there, he explains. At the same time, we are raising awareness of sustainable farming practices, for example by discouraging cutting down trees for charcoal. " Prevention and cure, this is the recipe he recommends to try to adapt as best as possible.
We want to say thanks to the writer of this write-up for this incredible content

In Gambia, the fight is organized against the invasion of salt in rice fields