To not miss anything on African news, subscribe to the newsletter of World Africa from this link. Every Saturday at 6 a.m., find a week of current events and debates treated by the editorial staff of World Africa.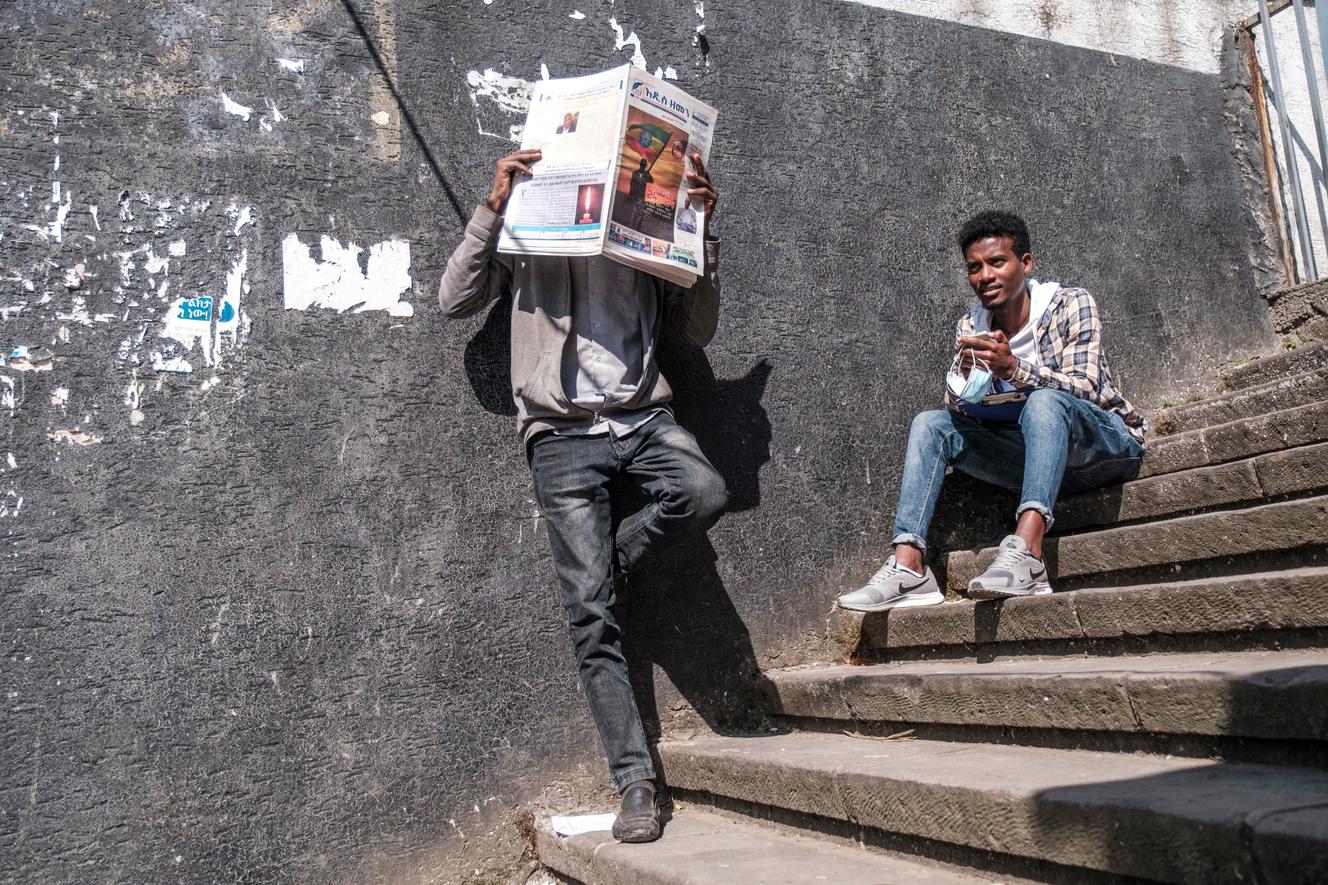 Since the establishment of the state of emergency in Ethiopia on November 2, the police have embarked on a large campaign of arrests targeting primarily the Tigrayans, a minority that represents 6% of the population. "While it is currently impossible to establish the exact number of detainees, they number in the hundreds and potentially in the thousands", indicates Amnesty International in a report published Friday, November 12, the NGO denouncing "A new wave of ethnically motivated detentions".
This crackdown, carried out mainly in Addis Ababa and other major cities in the country, officially targets those « suspected of providing direct or indirect moral or material support to terrorist organizations », as detailed in the state of emergency decree. A simple "Reasonable suspicion" can justify the arrest, without an arrest warrant, of an individual.
Read also
Article reserved for our subscribers

Ethiopia: "Western chancelleries have some responsibility for the abuses committed by the regime"
Those "Suspicion" focus primarily on the Front for the Liberation of the People of Tigray (TPLF), the historic party of the northern region, placed in May on the list of terrorist organizations by Parliament. At war for a year with the federal government of Prime Minister Abiy Ahmed, the TPLF recently approached within 300 kilometers of Addis Ababa, leading to the establishment of this state of emergency. The government, which accuses "Spies" to be responsible for this military defeat, proceeds to mass arrests.
Temporary detention camps
What happens to the inmates? If some are held in the police stations of the capital, others are gathered in temporary detention camps on the outskirts of the city, far from the eyes of potential observers, lawyers and journalists. One of these centers is in Gelan, south of Addis Ababa. It is a large industrial warehouse requisitioned by the authorities because "The police stations are overflowing", according to Amnesty International.
Amanuel [le prénom a été changé], 27, stayed there for a day. In early November, he was arrested during a police check on the Gelan road. "I was driving my minibus, they checked my identity papers and noticed that my name sounds Tigray, he remembers. The section chief put me in a van. " The rest takes place in Gelan's huge hangar. "There were many of us in my case, all Tigrayans and having been brought there for no reason after a police check. " According to him, there is no doubt: their arrest is due to their ethnic origins.
Deputy Foreign Minister Redwan Hussein denies any profiling of Tigrayans. « There is no systematic arrest based on your ethnic profile », he said on November 10. The director of the Ethiopian Human Rights Commission, Daniel Bekele, however fears that "The state of emergency and its directives are applied in the wrong way".
Read also
Article reserved for our subscribers

Ethiopia: what we know about the horrors committed since the start of the conflict in Tigray
Amanuel, who was born and raised in Addis Ababa, was released from prison after 24 hours, again without explanation. The other detainees, whose number he cannot estimate, were to be transferred to another, larger center. Is this the new prison of Abba Samuel, a few kilometers away, which a source assures us that it is also used to embastile the Tigrayans?
According to information gathered by Amnesty International, the Tigrayan prisoners are currently grouped together in six detention centers. Another source specifies a few, in addition to the usual police stations: "For example, they requisitioned police housing in the east of Addis Ababa or a library in Ayer Tena, a district in the west of the city. " Diplomats say larger centers exist outside the capital, such as Burayu, Chancho and Awash Arba.
"Three pieces of bread a day"
What is happening in these camps, out of sight? "We have no idea", launches a young woman who has lost track of several of her relatives. In early November, four of his friends were arrested on the terrace of a cafe in Gofa Mebrat Hayl, a neighborhood where many Tigrayans live, while they were talking in the Tigrinya language. "We do not know where they were taken, we have no contact", she says.
Despite her distress, she refuses to go to the police station to inquire about their fate, terrified at the idea of ​​being arrested in turn. For this reason, another resident confides that he cannot deliver medicine to his father, who is chronically ill and detained. for a week. Even bringing food becomes a perilous mission. "They are only allowed three pieces of bread a day", he specifies. Until today, very few lawyers have been able to visit their clients.
Amanuel describes the few scenes of violence he witnessed in Gelan's warehouse "Against those who resist and stand up to the guards". An aid worker, who wishes to remain anonymous, describes "Extremely harsh conditions of detention" but does not report cases of violence or torture.
Read also
In Ethiopia, local UN workers arrested by law enforcement
Like Amanuel, some manage to obtain a release, most often thanks to bribes paid by families. "There also seem to be criteria for the release of prisoners, says a humanitarian source. For example, it is easier if they are elderly or children, residing in Addis Ababa for many years. " On the other hand, young adults, especially if they have lived in Tigray, are automatically selected.
What will happen to them if the civil war in Ethiopia, where the rhetoric of identity and the militarization of militiamen worry observers, were to draw near to these camps? A diplomatic source fears possible settling of scores: "It suffices for a few white-hot extremists to go to these camps and take legal action themselves against individuals they consider enemies of the nation. "
A climate of fear and denunciation
Already, in Addis Ababa, "volunteers" (« stupid feqadegna », in Amharic) patrol the streets in search of "spies". Citizen vigilance which, in reality, consists in denouncing the Tigrayans in each neighborhood and delivering them to the police. The capital has 27,500 of these patrollers, according to the Ethiopian news agency.
In messages broadcast by loudspeakers in the back of pick-ups that turn at dawn, Addis Ababa city hall calls on these vigilante groups to protect neighborhoods. The authorities also demanded that the owners disclose the identity of all their tenants. In Ethiopia, ethnic origin is still specified on some identity cards.
For many Tigrayans, flight is no longer an option. At Bole International Airport, the entrance to the terminal is guarded by intelligence officers. They refuse access to all those whose identity papers or any other distinctive sign indicate a Tigrayan origin, including sometimes to holders of foreign passports. In fact, exile is impossible.
Read also
Article reserved for our subscribers

In Ethiopia, diplomats try to obtain a ceasefire
Trapped, with no way to escape, they only have discretion to try to slip through the cracks. Many residents hide, never sleep two nights in a row in the same place. Others go so far as to bribe the inhabitants of their neighborhood in the hope of not being denounced.
In this climate of fear and denunciation, no one seems safe. Thus, last week, the director of a national bank was arrested before being released. Thirty-seven Orthodox priests are also behind bars, as well as United Nations employees and former members of the Tigray regional provisional administration, which nevertheless favors Abiy Ahmed. All are Tigrayans.
"Many families are terrified", describes Eregeat [le prénom a été changé], a Tigrayan in her thirties living in Addis Ababa and whose most friends have been taken in roundups: "I'm not sure I'll be able to escape it for long. They will come to us at one time or another, that's for sure. We expect the worst. "
We would like to say thanks to the author of this write-up for this remarkable web content

Ethiopia: Tigrayans targeted by wave of arrests in Addis Ababa